My long-standing memoirs with Koolar Irani at Matunga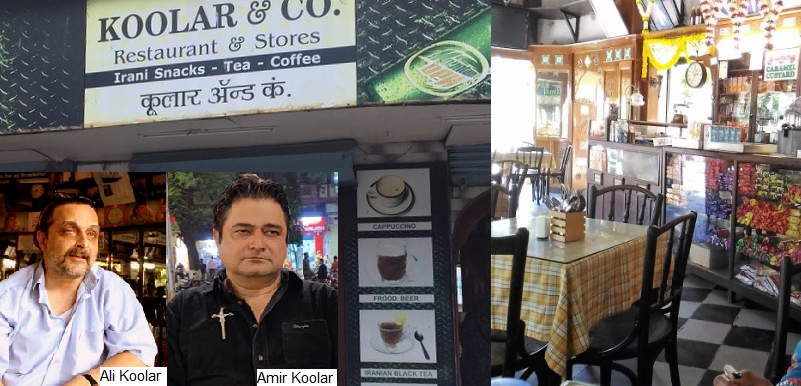 I intend speaking about the Irani restaurant with which I have had a long association. I will not bore you with the list of usual Parsi cuisines or mahogany ambiance. I am just going down memory lane when my first association with the owners of the restaurant began. It was in the year 1980 when I was in my first year of junior college. The restaurant Koolar and Co located on the way to my alma mater, namely Khalsa college, bang opposite the Kings Circle garden played host to my smoking spree. Cigarettes those days used to cost anywhere between 10 to 15 paise. The current second generation owners, namely elder brother Ali and younger brother Amir were not to be seen much as they too were into their education years.
Ali's father, a thorough gentleman who was rarely known to raise his voice was in charge. Those were the days when you could buy cigarettes across the counter at the restaurant. My favorite brand in my early days of college was Gold Filter. It used to cost 15 paise. Later on, I switched to a brand by name Wills Royal. The Irani stocked most of the cigarettes from the low-end Panama to high-end 555. I also used to watch some well-clad executives walk in and ask for Dunhill. Those were the days when you could feel like a prince even if you had Rs. 2 in the pocket.
Those were the days, when my college colleagues had given me the tab "Charsi". Many college mates who used to meet me at the Irani restaurant used to greet me "Hi Charsi". However, Ali's father maintained a stiff upper lip and did not address me by that name.
Many years later, when I began my working career as a journalist, I renewed ties with the second generation owners of the Irani restaurant, namely Ali and Amir. Ali knew me as Venky. Our bonding began soon after Ali installed a jukebox in the Irani. I used to repeatedly play the old Rajesh Khanna song from the film Dushman, titled "Vada Tera Vada". Once Ali asked me why did this song appeal to me so much? I told Ali, the last stanza appeals to me the most: "Pukare Dhoop koi, Bulaye chaon koi, Tera ho rang koi, tera ho roop koi, Kuch fark nahi naam tera, Raziya ho ya Radha, Vada tera Vada".
I will translate the last part of the verse though it might sound a bit sexist to the palates of the current generation: "It does not matter whether you are Lord Krishna's consort Radha, or Raziya of Raziya Sultan fame. You are the very same."
There was a waiter by name Abdul. Though known to be rude at times, he too enjoyed my choice of old songs from the jukebox which was predominantly from Dev Anand films. My favorite pick from Dev Saab's collection was "Jiya o Jiya kuch bol do". It was a very fast moving number which appealed to even the younger lot who were in their college years. Those were the days when smoking inside the restaurant did not pose any problems. I was yet to buy a computer. In addition to working as a journalist, I started penning my novel, sitting in the Irani restaurant with a cigarette in hand and a cup of tea on my table.
That was when I got a first-hand experience of my leg being pulled. As I was the type who hardly viewed television and preferred only BBC World if I were to watch it, I could not recognize Cyrus Brocha. I was one of the first Bhakras of "MTV Bhakra" a realty comedy hosted by Cyrus. When I ordered tea, he brought me coffee without milk and when I asked about milk, his behavior turned more irritating and he poured a cup of Irani chai in it. As my irritation kept increasing, I kept repeatedly calling Ali Akbar the jolly good fellow as he was known by his pet name "Aga". Finally, Cyrus pointed to the video screen on the top and shouted music. It soon dawned that I had turned into the first Bhakra for Cyrus' MTV Bhakra show.
Later, younger brother Amir, introduced me to his friend Ashgar who was the owner of Roohani restaurant at Mohamed Ali Road. Ashgar wanted to help him with drafting a complaint to be submitted to the zonal police station. It was then that I got to enjoy Ashgar' hospitality as he treated me to a desi baida (country egg) and a healthy omelette stuffed in pav. As days passed by, I and the two brothers grouped to watch movies. Our first outing was for Kal Ho Na ho at Imax Wadala. Subsequently, we watched Munna Bhai MBBS. Our movie time used to be late in the night after I finished my dinner at the Irani restaurant, which usually comprised an omelette pav or kheema pav.
One evening as I was seated in the Irani, tragedy struck. Ali called me near the counter and informed me that his manager Ali Akbar had passed away. Ali Akbar was in his mid-fifties and had looked to be in the thick of health. I Ali and Amir set off in his car and traveled to Mira Road where Ali Akbar' family resided and after paying our condolences we returned to the restaurant which was by then closed. We put a board outside stating, "The restaurant will be closed tomorrow following our managers' death." Another routine customer at the restaurant, Uday Brahme expressed shock at seeing the board. Later, when we met, he told me he was unable to believe the news.
As days passed by and Ali shifted to Bandra from his residence above the Irani restaurant, it was I and Amir who used to have frequent outings. Among a host of movies we watched were "Piku" and the Marathi starrer with fresh faces. "Sairaat". I and Amir used to catch up in the morning hours after he dropped his children to the nearby Bosco International School on his two-wheeler and be back at the restaurant. We usually chatted about matters like international politics or say how the Centre was behaving or at times Maharashtra politics.
The last breakfast I had at his restaurant was on the morning of March 24. I still yearn to be back to the good old days. I have no idea when things will be back to normal.